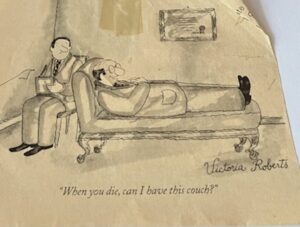 It has been about a year since I  retired from my 40 year practice of clinical psychology. This cartoon was taped to the inside of my old roll top desk for many decades.Although it was not my first office couch and not everyone even sat on it, when I permanently  vacated  the office, I could not  "let go" of "my couch" and moved it almost 80 miles. My adult son was horrified I did it.  However,  the man who cleaned the couch after the move said it was the cleanest couch he had ever seen! Despite all the effort, the couch ended up in a room where it truly did not "fit" for a variety of reasons.
Clearly the couch was a reflection of not just my practice and career, but of the people who shared with me  their hearts and souls while sitting on it. Leaving the physical space after decades of my life and work, the couch took on a lot of history and meaning. The pandemic forced me out of the office, but I kept holding on. Like a painter who needs an easel, I believed I needed the couch to continue to keep my identity as a therapist.
After awhile, I was able to "let go" realizing that my holding on was my difficulty  moving on to another phase in my professional and personal identity. Leaving the office was one of those difficult life transitions I was struggling to manage. The couch was just the last dance. I will say – it was a really comfortable couch. I took many cat naps on it as my office was my "safe place." I even got so I did not even need an alarm to wake up.
So what might the couch tell me if it could talk? What wisdom and guidance would it offer?  I will always reflect on the energy and stories that were shared with me by the amazing brave individuals who sat in that office.
One major lesson is that this therapist is also the student. I learned the importance of creating a safe space to be vulnerable and sharing that with a trusted listener. My clients were my teachers in demonstrating ways to be resilient in challenging times. Honestly exploring feelings can but does not always leads to behavior change. There is something, however, healing about giving voice to our pain in a safe trusting space. I learned that it takes lots of time to heal from any wound- physical as well as emotional . Knowing that my office and couch stayed the same was a source of comfort in the ever -changing world both for myself and my clients.
When the hurt and anger seemed too great, the couch could seem too small to hold all the pain. It took courage and determination to bridge the gulf between a couple and have them move towards each other on the couch.
However, finding ways to manage change and loss is vital for us all. Letting go of the physical couch is a lesson in realizing that I carry the lessons and connections from those relationships within me. This is another reminder that letting go of what is in the physical realm  (ie. possessions, people, physical health) is never easy. However, I continue to try to remember that  the emotional connections and life lessons are within me and will  continue to support me when I need them most.